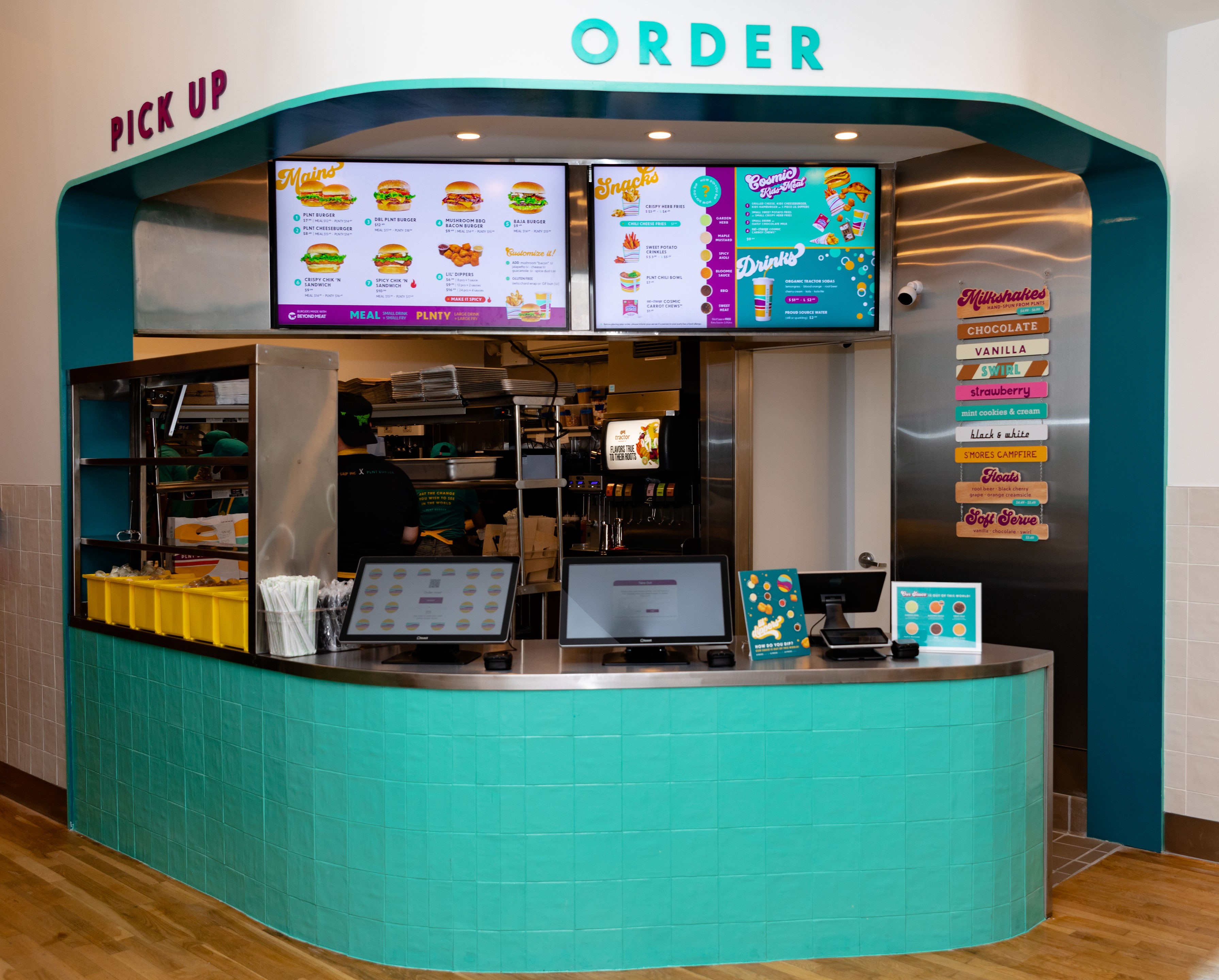 Following the pandemic, Ben Kaplan (PLNT Burger CEO) has looked to technology to restore personalization to unattended transactions, leading him to an AI-enabled voice order solution.
When entrepreneur Ben Kaplan first learned about Beyond Meat, he knew it was time to get into the plant-based meat game.
As the conversations evolved, Kaplan ended up teaming with Seth Goldman, co-founder of Beyond Meat, and Spike Mendelsohn, a chef and restaurateur, to launch PLNT Burger, a Boston-based fast casual specializing in plant-based meat.
The first PLNT Burger opened in 2019 in a 120-square-foot space in a Whole Foods Markets store in Silver Spring, Maryland, under the retailer's third-party, in-store vendors program.
In the beginning, the restaurant was "status quo." It used a Toast POS with nearly all orders coming over the cash register. Kaplan thought he had his business model in place and began talking to Whole Foods Markets about additional locations.
Pandemic strikes
Then the pandemic hit.
"That really forced us to change everything in terms of how we took orders," Kaplan said during a phone interview.
The second PLNT Burger restaurant in April of 2020 — in a Washington, D.C. Whole Foods Market — featured self-order kiosks, online ordering and handheld ordering. Ninety percent of the sales were made online, and although sales were slower than pre-pandemic because traffic was slow, average tickets were higher.
There was one cash register in the second store, but there were no dedicated cashiers. Employees were cross-trained to take in-store and online orders. Crews of four declined to crews of two or three.
By the time the third store opened in May 2020, Kaplan was focusing on ways to improve the personalization of his online orders.
The tech journey continues
"What happened was we recognized we were missing some of that special sauce, missing some of that connection and engagement that we were able to make with our guests over the counter," he said.
His technology journey continued.
"We went off of Toast's platform and joined a different vendor for our online ordering which also included an app interface, a loyalty program and some automated intelligence marketing," he said.
AppFront (the new software vendor) gave the guest a more frictionless way to get to the checkout. It also enabled personalized, targeted marketing based on guests' existing behavior. It enabled text and email messaging that allowed PLNT Burger to connect directly to its most loyal guests and track spend time and lifetime value.
"This (AppFront) took the next step in the direction that we always leveraged technologies since we started which was, 'How do we add back in some of that human experience, that human element and that special sauce that we lost because of the necessities of the pandemic?'"
AppFront also enabled on-premises QR code ordering which helped boost in-store sales to 50%. QR codes went on window signs, at registers and kiosks, "anywhere we thought there might be a demand to order," Kaplan said. They also went beyond the PLNT Burger space to other parts of the Whole Foods store.
The company's first brick-and-mortar restaurant opened near Union Square in New York City in January 2022. The 800-square-foot store has two self-order kiosks, one cash register and several outdoor signs for QR code ordering, operated by four-person shifts.
Cognizant of the importance of technology, Kaplan also invested in Seven Shifts for scheduling, Momos for online marketing feedback, Ovation for guest feedback and Dine Technology LLC to supplement Restaurant365 for accounting.
"We really accelerated the introduction of all this during 2021," he said.
Voice technology arrives
Kaplan's most pioneering project could well be his exploration of voice ordering and voice data capture for self-order kiosks.
After exploring voice-to-text ordering solutions, he came across Yobe Inc., a Boston-based firm launched by CEO Ken Sutton that provides a software that extracts biological voice "markers" to accurately identify the user and what they are ordering, regardless of whether someone else is talking at the same time.
Kaplan viewed Yobe's AI-based software as game changing, seeing that most voice-to-text solutions in restaurants were in drive-thrus, where there's still a human involved in taking the order.
"A lot of voice technology, you need a very quiet, very ambient space," Kaplan said. "Any type of cross talk is going to really disrupt the process. Yobe was able to narrow in on the voice biometrics and get rid of that cross talk. In the same vein, that unlocked the ability to understand people better."
The voice solution is currently a work in progress between PLNT Burger, Yobe and SoundHound, a provider of an AI system that can understand human natural speech.
"His (Ken Sutton's) technology was not only marrying voice recognition, but also humanizing the elements of voice," Kaplan said. "That to me said, 'Wow, there's a lot to unlock here and bring hospitality to the table.'
"You could speak colloquially, and it was able to really recognize you and hear and understand what you were trying to do in terms of the order."
Once the solution is fully assembled, Kaplan will introduce it in his freestanding stores, where the self-order kiosks are more dominant. He will eventually have it in all 14 of his stores.
Kaplan has also considered facial recognition, seeing a benefit in collecting data that is anonymized for suggestive selling and for demographic research.
The Yobe software similarly makes it possible for restaurants to provide a customized experience for guests, recognizing the individual by voice, pulling up preferences, rewards accounts and more. Future developments might include the ability to understand and act on emotion, intent and mood.
"Where face recognition really has to be a supplement, because you can't tell what I want to eat by my face … I think voice has a ton of layers of actual function when you add that on," he said.
"I really think what's been missing is the reason people want to go to restaurants in the first place, which is they want to have some engagement with the brand."